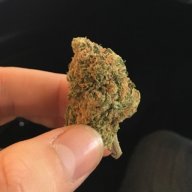 Usage & Effects
Blue Sky
Time of use
AFTERNOON
Blue Sky
Typical Effects
FOCUSED
RELAXED
CREATIVE
Blue Sky
Common Usage
DEPRESSED
A LOSS OF APPETITE
ANXIETY
Blue Sky is a 70% Indica dominant cannabis strain. This beautiful variety of cannabis produces impressive levels of THC that average between 19 to 21% and sometimes more. It was created by crossing Rocky Mountain Blueberry and LSD together. The end result produces beautiful forest green buds with lots of red hairs and tons of sparkly trichomes. The intense trichome coverage makes the bud very sticky to the touch and extremely difficult to break up without a grinder. Some might even call this bowl weed. The flavor profile makes love to your mouth with sweet hints of blueberry and a candy-like finish. Some even experience a fruity flavor on the exhale beyond blueberry. A lot of consumers say this strain is great at helping improve the appetite as well as fighting symptoms of anxiety, stress, depression, chronic pain, arthritis, and more. The buzz is described as being a very relaxing and focused one that helps to spark creativity.
FAQ
How much THC is in Blue Sky strain?
Answer: This strain contains about 19% THC on average.