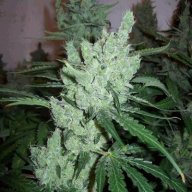 Usage & Effects
Blues
Time of use
EVENING
Blues
Typical Effects
FOCUSED
RELAXED
SLEEPY
Blues
Common Usage
DEPRESSED
A LOSS OF APPETITE
INSOMNIA
Blues is a 70% Sativa dominant hybrid cannabis strain. The exact heritage of this strain is kind of a mystery, but it is believed to be a phenotype from a Skunk # 1. THC ranges mild between 13 to 18% on average. The buds from the strain tend to have a bright green color to them and are loaded with red hairs and crystalline trichomes. They are very resinous and sticky to the touch, which makes them nearly impossible to break up without having a grinder. The flavor profile is said to be earthy and sweet with a skunky finish. Many people say the strain helps improve their appetite as well as control the symptoms of stress, depression, anxiety, and more. They also say this strain is a great one at helping fight insomnia. The buzz is described as a very relaxing and focused one that leaves many people feeling sleepy.
FAQ
How much THC is in Blues strain?
Answer: This strain contains about 16% THC on average.