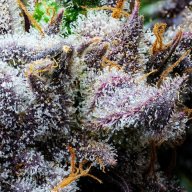 Usage & Effects
Blurple
Time of use
AFTERNOON
Blurple
Typical Effects
FOCUSED
RELAXED
PARANOIA
Blurple
Common Usage
DEPRESSED
A LOSS OF APPETITE
ANXIETY
Blurple is a 50/50 hybrid cannabis strain that offers consumers the best of both worlds from sweet Sativa and beautiful Indica. This luscious hybrid cannabis strain is a mix of Mendocino Purps and Blue Dream. It produces THC that ranges from mild to strong between 10 and 20%. The buds are typically dark green in color with brown hairs. They are also known to carry orange hairs that give them a very rustic look. In the right environment, the nugs will have brilliant streaks of purple and blue throughout them. The trichome coverage on these buds can be mild to extremely heavy. Many consumers report this strain improving their appetite as well as helping fight the symptoms of stress, depression, anxiety, and more. The buzz is described as very relaxing and focused, with some reporting a slight case of paranoia.
FAQ
How much THC is in Blurple strain?
Answer: This strain contains about 19% THC on average.