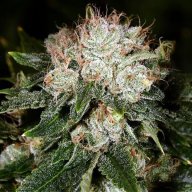 Bruce Banner
Sativa content
Usage & Effects
Bruce Banner
Time of use
AFTERNOON
Bruce Banner
Typical Effects
RELAXED
DRY EYES
PARANOIA
Bruce Banner
Common Usage
DEPRESSED
A LOSS OF APPETITE
ANXIETY
Bruce Banner is a 60% Sativa dominant cannabis strain. This beautiful hybrid has enough Sativa to keep you going and just enough Indica to keep you from going too far too fast. THC comes in at incredible levels averaging between 28 to 30%! The buds are bright green in color with rustic orange hairs all over them. They are blanketed in a crystal-like coating of sparkly trichomes. This strain is said to be a cross of OG Kush and Strawberry Diesel. The flavor is described as earthy and pungent with a spicy finish. Consumers say this strain will help you work up a monster of an appetite. They also say this variety of cannabis helps control the symptoms of anxiety, stress, depression, chronic pain, arthritis, and more. The buzz is described as a very relaxing one that is known to give you dry eyes and cottonmouth. Some consumers even report a touch of paranoia.
FAQ
How much THC is in Bruce Banner strain?
Answer: This strain contains about 30% THC on average.
Where can I buy Bruce Banner weed strain?