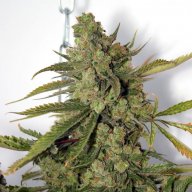 Usage & Effects
Cheese
Time of use
EVENING
Cheese
Typical Effects
RELAXED
DRY EYES
COTTON MOUTH
Cheese
Common Usage
DEPRESSED
A LOSS OF APPETITE
ANXIETY
Cheese is an 80% Indica dominant cannabis strain. This Indica variety of cannabis produces THC levels averaging around 18 to 22% or more. The buds are bright green with an abundance of trichomes and orange hairs. It is said to be a cross of Colombian Mexican and Afghani with a little bit of Skunk # 1. The buds are mossy to forest green in color and have brilliant yellow and orange hairs throughout. They are extremely sticky to the touch thanks to the thick coating of resinous trichomes found on these lovely buds. Consumers report this strain helping to improve their appetite as well as fight off the symptoms of depression, stress, anxiety, PTSD, and more. The buzz is described as an extremely relaxing one that is known to come with very common side effects of cottonmouth and dry eyes.
FAQ
How much THC is in Cheese strain?
Answer: This strain contains about 20% THC on average.