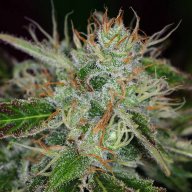 Usage & Effects
Chernobyl
Time of use
MORNING
Chernobyl
Typical Effects
RELAXED
SOCIAL
HAPPY
Chernobyl
Common Usage
DEPRESSED
A LOSS OF APPETITE
PAIN
Chernobyl is an 80% Sativa dominant variety of cannabis. THC levels range between 18 to 22% or higher with this cannabis strain. It was created crossing Jack the Ripper with Trainwreck and Trinity. The buds are forest green in color with neon orange hairs. The trichome coverage is very thick and sticky, making these buds very hard to break up by hand. The flavor profile is described as dank with hints of citrus and a floral finish. A lot of consumers say this strain helps to improve their appetite as well as help them control the symptoms of chronic pain, arthritis, depression, stress, anxiety, PTSD, and more. The buzz is said to be a very relaxing and happy one that leaves many consumers feeling very social.
FAQ
How much THC is in Chernobyl strain?
Answer: This strain contains about 0% THC on average.