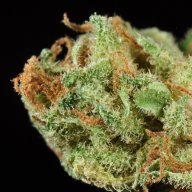 Cherry Bomb
Hybrid content
Usage & Effects
Cherry Bomb
Time of use
AFTERNOON
Cherry Bomb
Typical Effects
FOCUSED
RELAXED
SOCIAL
Cherry Bomb
Common Usage
DEPRESSED
PAIN
NAUSEA
Cherry Bomb is a 50/50 hybrid cannabis strain. This beautifully balanced hybrid offers consumers the best of both worlds, giving them equal amounts of Indica and Sativa. THC levels come in extremely high averaging between 22 to 28% or more. It is said to be a cross of Mr. Greengenes landrace Sativa from Hawaii along with an unidentified California Indica. The buds are forest green in color and have hints of purple and blue throughout them. They are wrapped in a fresh powdery snow light coating of sparkly sticky trichomes. The flavor is described as very sweet, with hints of berries every fruit with a musky finish. Many consumers report this strain helping control the symptoms of nausea, chronic pain, arthritis, depression, stress, anxiety, PTSD, and more. The buzz is said to be a very relaxing and focused feeling one which leaves many people very social and outgoing.
FAQ
How much THC is in Cherry Bomb strain?
Answer: This strain contains about 26% THC on average.