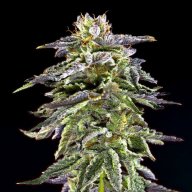 Usage & Effects
Cherry Pie
Time of use
EVENING
Cherry Pie
Typical Effects
FOCUSED
SLEEPY
COTTON MOUTH
Cherry Pie
Common Usage
DEPRESSED
ANXIETY
INSOMNIA
Cherry Pie is a 60% Indica dominant cannabis strain. This heavy-hitting Indica has high levels of THC ranging between 24 to 28% or higher. It is said to be crossed with Grand Daddy Purple and Durban Poison. The buds are forest green in color with shades of purple and blue throughout them. They are wrapped in orange hairs, and a sticky, resinous coating of trichomes. The flavor profile is described as very sweet and earthy, with hints of cherry and a dank skunky finish. Many consumers say this strain helps with insomnia as well as the symptoms of anxiety, stress, depression, PTSD, and more. The buzz is described as a very sleepy and focused one that comes with a common side effect of cottonmouth.
FAQ
How much THC is in Cherry Pie strain?
Answer: This strain contains about 26% THC on average.
Where can I buy Cherry Pie weed strain?