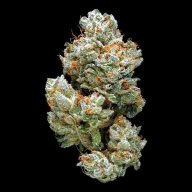 Chocolate Diesel
THC Content
Chocolate Diesel
CBD Content
Chocolate Diesel
Sativa content
Usage & Effects
Chocolate Diesel
Time of use
MORNING
Chocolate Diesel
Typical Effects
FOCUSED
RELAXED
CREATIVE
Chocolate Diesel
Common Usage
DEPRESSED
ANXIETY
MIGRAINES
Chocolate Diesel is a 100% sweet Sativa dominant strain of cannabis. This succulent Sativa is a true pleaser with heavy-hitting levels of THC, averaging between 18 to 25% or better. The buds from this lovely lady are forest green and color with neon orange and red hairs. The trichome coverage is so thick it looks as if the buds have been rolled in crushed ice. The flavor profile appropriately has hints of chocolate and nuts with a diesel finish. Consumers say this is an excellent strain to help get rid of migraine headaches as well as to help control the symptoms of stress, depression, anxiety, and more. The buzz is said to be a very relaxing and focused one that helps with the field of creativity.
FAQ
How much THC is in Chocolate Diesel strain?
Answer: This strain contains about 18% THC on average.