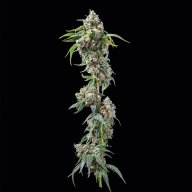 Usage & Effects
Chocolope
Time of use
MORNING
Chocolope
Typical Effects
FOCUSED
PARANOIA
CREATIVE
Chocolope
Common Usage
DEPRESSED
A LOSS OF APPETITE
ANXIETY
Chocolope is a 100% Sativa dominant cannabis strain. This sweet, succulent Sativa has nice levels of THC, averaging between 18 to 24%. It was created crossing a Cantaloupe Haze with Chocolate Thai. The buds are bright green in color and wrapped in brilliant neon orange hairs. They have a very thick coating of sparkly trichomes that make them sticky to the touch. The flavor profile is described as sweet with hints of coffee and cocoa. Consumers say the strain helps improve their appetite as well as fight off the symptoms of anxiety, stress, depression, PTSD, chronic pain, arthritis, and more. The buzz is said to be a very creative and focused one that occasionally comes with a splash of paranoia.
FAQ
How much THC is in Chocolope strain?
Answer: This strain contains about 22% THC on average.