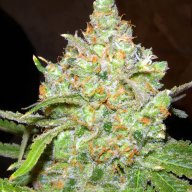 Cinderella 99
Sativa content
Usage & Effects
Cinderella 99
Time of use
MORNING
Cinderella 99
Typical Effects
FOCUSED
PARANOIA
CREATIVE
Cinderella 99
Common Usage
DEPRESSED
A LOSS OF APPETITE
ANXIETY
Cinderella 99 is a 70% Sativa dominant cannabis strain. This sweet, succulent Sativa boasts impressive levels of THC ranging between 18 to 24%. Buds from Cinderella 99 are typically bright green in color with beautiful orange hairs and a succulent lush coating of brilliant sparkly trichomes. The flavor profile is sweet and herbily with a dank botanical finish. Consumers report this strain giving them a major case of the munchies, aka helping to improve their appetite. They also say it's great at helping control the symptoms of anxiety, PTSD, stress, depression, chronic pain, and more. The buzz is said to be a very creative and focused feeling one.
FAQ
How much THC is in Cinderella 99 strain?
Answer: This strain contains about 22% THC on average.