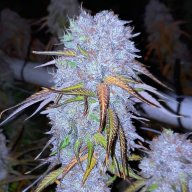 Colombian Gold
THC Content
Colombian Gold
CBD Content
Colombian Gold
Sativa content
Usage & Effects
Colombian Gold
Time of use
MORNING
Colombian Gold
Typical Effects
FOCUSED
COTTON MOUTH
CREATIVE
Colombian Gold
Common Usage
DEPRESSED
ANXIETY
PAIN
Colombian Gold is a 100% Sativa dominant cannabis strain. This sweet, succulent Sativa boasts beautiful levels of THC ranging between 18 to 24% on average. You can expect pale green buds with neon orange hairs. These gorgeous buds are blanketed in a lush coating of intensely sticky and frosty trichomes. The flavor profile is described as pungent and earthy with a skunky finish. A lot of consumers say this strain helps fight off the symptoms of chronic pain, arthritis, depression, stress, anxiety, PTSD, and more. The buzz is described as being a very focused feeling one that helps with creativity but also is known to cause cottonmouth.
FAQ
How much THC is in Colombian Gold strain?
Answer: This strain contains about 20% THC on average.