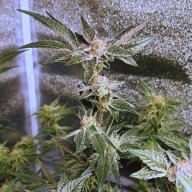 Cookies Kush
Indica content
Usage & Effects
Cookies Kush
Time of use
EVENING
Cookies Kush
Typical Effects
RELAXED
SLEEPY
HAPPY
Cookies Kush
Common Usage
DEPRESSED
A LOSS OF APPETITE
INSOMNIA
Cookies Kush is a 70% Indica dominant cannabis strain. You can expect an average THC level of around 18% plus 3% cbd. Cookies kush is said to be a combination of Girl Scout Cookies mixed with Rolex. The buds are bright green in color with vivid orange and red hairs. They appear to be rolled in a fresh powdery coat of snow that is actually sticky resinous trichomes that will gag any grinder. The flavor profile is earthy and sweet with a hint of Apple and a potent Kush finish. Many people have reported this variety of cannabis helping them control the symptoms of stress, depression, insomnia, nausea, a loss of appetite, chronic pain, arthritis, menstrual cramps, and much more. The buzz is described as a very happy and relaxing one that will eventually leave you feeling sleepy.
FAQ
How much THC is in Cookies Kush strain?
Answer: This strain contains about 18% THC on average.