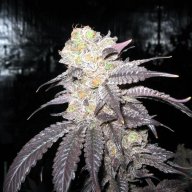 Corleone Kush
Hybrid content
Usage & Effects
Corleone Kush
Time of use
MORNING
Corleone Kush
Typical Effects
RELAXED
SLEEPY
HUNGRY
Corleone Kush
Common Usage
A LOSS OF APPETITE
INSOMNIA
PAIN
Corleone Kush is a hybrid cannabis strain that contains almost an equal balance of Indica and Sativa. This beautiful hybrid was created crossing Bubba Kush and OG Kush together. Perhaps that's why it is the Don of the OG family. THC ranges between 20 to 30% or higher, making Corleone some absolute fire! This pungent, potent strain of the OG family produces phenomenal bright green buds with neon red and orange hairs. They are blanketed in a thick frosty sparkling diamond-like coating of chunky resinous trichomes. The flavor profile is described as tart and citrusy with hints of lemonade and a floral finish. A lot of people say this strain helped improve their appetite and manage the symptoms of insomnia. It's also said to be great at helping to control chronic pain, arthritis, and more. The buzz is described as being a very relaxing one that leaves you hungry and sleepy.
FAQ
How much THC is in Corleone Kush strain?
Answer: This strain contains about 29% THC on average.