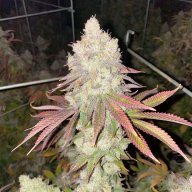 Deadhead OG
Sativa content
Usage & Effects
Deadhead OG
Time of use
MORNING
Deadhead OG
Typical Effects
FOCUSED
PARANOIA
CREATIVE
Deadhead OG
Common Usage
DEPRESSED
A LOSS OF APPETITE
ANXIETY
Deadhead OG is a 60% Sativa dominant cannabis strain. The sweet Sativa has sweet levels of THC coming in extremely high, like you'll be, averaging 25% or more. If you take a few puffs off of this, get ready for what's in store. This delectable OG was created crossing two legendary OG's of the game, SFV OG Kush, and Chemdawg 91. The buds are bright green in color with vibrant orange and yellow hairs. They are covered in a very thick coating of sticky, resinous trichomes. The flavor profile is described as sweet with hints of pine and lemon, followed by an earthy finish. Many consumers say this strain helps improve their appetite. It's also said to be great at helping manage the symptoms of anxiety, stress, depression, chronic pain, arthritis, menstrual cramps, and more. The buzz is said to be a focused one that helps with creativity.
FAQ
How much THC is in Deadhead OG strain?
Answer: This strain contains about 25% THC on average.