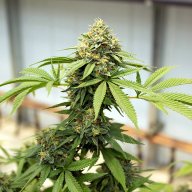 Usage & Effects
Death Star
Time of use
EVENING
Death Star
Typical Effects
RELAXED
PARANOIA
COTTON MOUTH
Death Star
Common Usage
DEPRESSED
ANXIETY
INSOMNIA
Death Star is an 80% Indica dominant variety of cannabis. This heavy-hitting Indica produces knockout levels of THC ranging between 25 to 30% or more. It was created crossing Sensi Star with Sour Diesel. The end result produces gorgeous dark green buds with brilliant orange hairs. The buds are wrapped in an extremely sticky chunky coating of sparkly frosty trichomes. The flavor profile is skunky, funky, and earthy. Many consumers say this strain helps them to find the sleep they need by getting rid of the symptoms of insomnia. It's also said to help manage stress, depression, anxiety, chronic pain, arthritis, and much more. The buzz is referred to as a very relaxing one that causes a case of the munchies and cotton face.
FAQ
How much THC is in Death Star strain?
Answer: This strain contains about 26% THC on average.