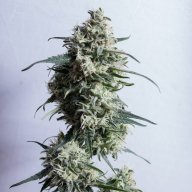 Durban Poison
Sativa content
Usage & Effects
Durban Poison
Time of use
MORNING
Durban Poison
Typical Effects
FOCUSED
PARANOIA
CREATIVE
Durban Poison
Common Usage
DEPRESSED
A LOSS OF APPETITE
ANXIETY
Durban Poison is a 100% Sativa dominant landrace cannabis strain out of Africa. This potent Sativa variety of cannabis has impressive levels of THC ranging between 15 to 25% or higher, making Durban Poison some serious fire! The buds are forest green in color with light orange hairs. They glisten in the light from an exuberant coating of chunky frosty trichomes. The flavor profile is very earthy and tropical, with a pungent skunky finish. Many consumers say this strain helps to improve their appetite as well as helps them manage the symptoms of stress, depression, anxiety, chronic pain, arthritis, and much more. The buzz is said to be creative, focused, and chill, although some people report having a slight touch of paranoia from this super strong Sativa.
FAQ
How much THC is in Durban Poison strain?
Answer: This strain contains about 25% THC on average.