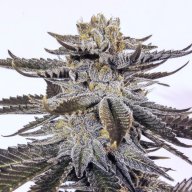 Fruity Pebbles
THC Content
Fruity Pebbles
CBD Content
Fruity Pebbles
Indica content
Usage & Effects
Fruity Pebbles
Time of use
AFTERNOON
Fruity Pebbles
Typical Effects
RELAXED
DRY EYES
COTTON MOUTH
Fruity Pebbles
Common Usage
DEPRESSED
A LOSS OF APPETITE
ANXIETY
Fruity Pebbles is a 55% Indica dominant cannabis strain. On average, you can expect THC levels to range between 18 to 24% or more. This exotic cannabis strain has lineage from Grand Daddy Purple, Green Ribbon, as well as Alien Kush and Tahoe OG. The buds are vibrant in color typically being bright green to olive green. There are also hints of purple and red as well as orange hairs throughout the nugs of this beauty. To bring the beauty the life even more on these gorgeous buds, they are blanketed in sparkly diamond-like trichomes. The flavor profile is spicy with hints of hash and sugar, followed by a fruity finish. Many consumers report this strain helping to improve their appetite as well as helping to control the symptoms of anxiety, stress, depression, chronic pain, arthritis, and more. The buzz is described as very relaxing but comes with the very common side effects of cottonmouth and dry eyes.
FAQ
How much THC is in Fruity Pebbles strain?
Answer: This strain contains about 22% THC on average.