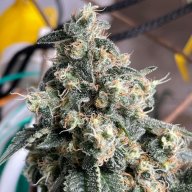 Usage & Effects
Garlic Bud
Time of use
EVENING
Garlic Bud
Typical Effects
FOCUSED
RELAXED
SOCIAL
Garlic Bud is a 100% Indica dominant cannabis strain. Garlic Bud produces THC levels averaging between 18 to 22% or more. The buds are forest green in color and have a generous portion of sticky resinous trichomes. The hairs are rustic in color making these beautiful buds stand out. The flavor profile is described as spicy with hints of fruit and an herbal woody finish. Many consumers report this strain helping them improve their appetite. It is also said to be great at helping manage the symptoms of chronic pain, arthritis, stress, depression, PTSD, ADHD, nausea, and more. The buzz is described as being a very relaxing, focused, and social feeling one that eventually leads to sleep.
FAQ
How much THC is in Garlic Bud strain?
Answer: This strain contains about 20% THC on average.