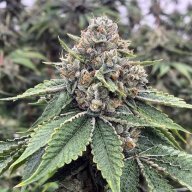 Godfather OG
Indica content
Usage & Effects
Godfather OG
Time of use
EVENING
Godfather OG
Typical Effects
RELAXED
SLEEPY
CREATIVE
Godfather OG
Common Usage
DEPRESSED
A LOSS OF APPETITE
ANXIETY
Godfather OG is a 60% Indica dominant cannabis strain. This OG will knock your socks off if you're wearing any with THC levels coming in extremely high at around 25 to 30%! It is said to be a cross of Granddaddy Purple mixed with LA Confidential, Bubba Kush, and OG Kush. The end result produced beautiful forest green colored buds with vibrant orange and red hairs. The trichome coverage is thick and heavy, making the buds very sticky to the touch. The flavor profile has hints of pine and grape followed by a pungent floral finish. Many people report the strain helping to improve their appetite. It is also said to be great at helping manage the symptoms of anxiety, stress, depression, nausea, chronic pain, arthritis, and much more. The buzz is described as very relaxing and creative before becoming very sleepy feeling.
FAQ
How much THC is in Godfather OG strain?
Answer: This strain contains about 28% THC on average.