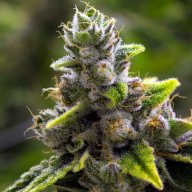 Gorilla Glue
Hybrid content
Usage & Effects
Gorilla Glue
Time of use
EVENING
Gorilla Glue
Typical Effects
SLEEPY
HEADACHE
SEDATED
Gorilla Glue
Common Usage
DEPRESSED
INSOMNIA
MIGRAINES
Gorilla Glue is a 50/50 hybrid cannabis strain. This beautifully balanced hybrid offers consumers equal amounts of Sativa and Indica. It also comes with remarkably high levels of THC, averaging between 25 to 30% or more. It is said to be a mix of Chocolate Diesel and Chem's Sister. The buds are bright green in color with neon orange and yellow hairs. They are blanketed in a generous portion of sticky, chunky trichomes. The flavor profile is earthy and pungent with hints of diesel and a sour skunky finish. Many consumers report this strain helping them fight off the symptoms of insomnia, migraine headaches, stress, depression, anxiety, PTSD, chronic pain, arthritis, and much more. The buzz is described as a very sleepy and sedated feeling one.
FAQ
How much THC is in Gorilla Glue strain?
Answer: This strain contains about 28% THC on average.
Where can I buy Gorilla Glue weed strain?