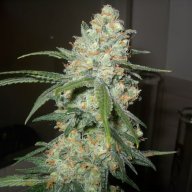 Green Crack
Sativa content
Usage & Effects
Green Crack
Time of use
MORNING
Green Crack
Typical Effects
PARANOIA
COTTON MOUTH
CREATIVE
Green Crack
Common Usage
DEPRESSED
A LOSS OF APPETITE
ANXIETY
Green Crack is a 65% Sativa dominant cannabis strain. Green Crack may be just the thing to get you on track with high levels of THC, averaging between 22 to 26% or more. No one is exactly sure where the genetics for this strain comes from, but many believe it has Skunk #1 and a mix of Afghani in it. The buds are pale green in color with rustic colored hairs. They are rolled in an abundance of chunky sticky trichomes that make them glitter in the light. The flavor profile is sweet and smooth with hints of mango and hash followed by a spicy, pungent finish. Many consumers report this strain helping to improve their appetite. It's also said to be great at managing the symptoms of nausea, anxiety, stress, depression, PTSD, and more. The buzz is described as a creative feeling one that comes with a common side effect of dry eyes and cottonmouth.
FAQ
How much THC is in Green Crack strain?
Answer: This strain contains about 24% THC on average.
Where can I buy Green Crack weed strain?