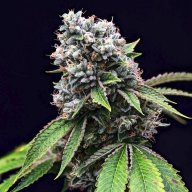 Usage & Effects
Headband
Time of use
AFTERNOON
Headband
Typical Effects
FOCUSED
RELAXED
COTTON MOUTH
Headband
Common Usage
DEPRESSED
A LOSS OF APPETITE
ANXIETY
Headband is a 55% Indica dominant cannabis strain. You can expect heavy-hitting levels of THC, averaging between 18 28% from Headband. It was created crossing Sour Diesel with Master Kush and OG Kush. The buds are pale green with loads of beautiful red and orange hairs hidden behind a thick wall of sticky, resinous trichomes. The flavor profile is described as citrusy and creamy with a diesel finish. Many people report this strain helping them control the symptoms of stress, depression, anxiety, nausea, loss of appetite, chronic pain, arthritis, and much more. The buzz is a very relaxing and focused feeling, one that comes with the common side effect of cottonmouth.
FAQ
How much THC is in Headband strain?
Answer: This strain contains about 27% THC on average.