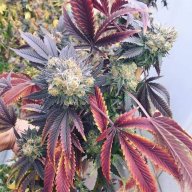 Usage & Effects
Herijuana
Time of use
EVENING
Herijuana
Typical Effects
RELAXED
DRY EYES
PARANOIA
Herijuana
Common Usage
DEPRESSED
ANXIETY
INSOMNIA
Herijuana is an 80% Indica dominant cannabis strain. This particular variety of cannabis has impressively high levels of THC, averaging 30% or more! Herijuana is a mix of Petrolia Headstash and a Kentucky landrace. The buds range from forest green to bright green with orange and red hairs. They have very thick chunky trichomes that are extremely sticky, covering them all over. The flavor profile is described as fruity and sweet with hints of hash and an earthy finish. Many different consumers report this strain helping them fight the symptoms of insomnia, depression, stress, anxiety, nausea, chronic pain, arthritis, menstrual pain, nausea, loss of appetite. The buzz is described as a very relaxing one that comes with common side effects of dry eyes and cottonmouth.
FAQ
How much THC is in Herijuana strain?
Answer: This strain contains about 32% THC on average.