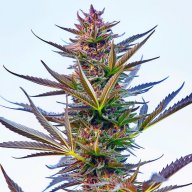 Usage & Effects
Hindu Kush
Time of use
EVENING
Hindu Kush
Typical Effects
RELAXED
SLEEPY
COTTON MOUTH
Hindu Kush
Common Usage
DEPRESSED
A LOSS OF APPETITE
ANXIETY
Hindu Kush is a 100% Indica dominant cannabis strain. This landrace strain is said to come from the mountains between Pakistan and Afghanistan. THC levels come in testing between 15 to 22% or higher. The buds are forest green in color with vibrant flashes of purple throughout them. They have a generous portion of sticky, chunky trichomes hiding fiery red hair around them. The flavor profile is earthy with hints of pine and spice and sandalwood like finish. A lot of different people have reported this strain helping them fight off the symptoms of anxiety, depression, stress, nausea, loss of appetite, migraine headaches, insomnia, PTSD, chronic pain, arthritis, and much more. The buzz is said to be a very relaxing and sleepy feeling one. It is also known to come with a common side effect called cottonmouth.
FAQ
How much THC is in Hindu Kush strain?
Answer: This strain contains about 20% THC on average.
Where can I buy Hindu Kush weed strain?