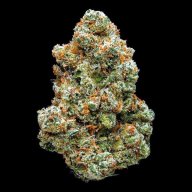 Usage & Effects
Jack Herer
Time of use
MORNING
Jack Herer
Typical Effects
FOCUSED
COTTON MOUTH
CREATIVE
Jack Herer
Common Usage
DEPRESSED
A LOSS OF APPETITE
ANXIETY
Jack Herer is a 55% sativa dominant cannabis strain. This sweet, succulent sativa has an average THC level range between 22 to 25% or more. This particular cannabis strain was developed by Sensi Seeds to pay homage to the legendary cannabis activist, author, and friend to many Jack Herer himself. It is said to have been created using Northern Lights #5, Haze, and Shiva Skunk. The buds are bright green in color with red and orange hairs. They have a generous portion of sticky trichomes all over them. The flavor profile has hints of citrusy lemon and orange mixed with pine followed by a floral, dank finish. A lot of people say this strain helps to improve their appetite and fight nausea. It's also said to be great at helping control the symptoms of stress, depression, anxiety, and more. The buzz is described as being creative and focused feeling but commonly comes with cottonmouth.
FAQ
How much THC is in Jack Herer strain?
Answer: This strain contains about 24% THC on average.
Where can I buy Jack Herer weed strain?