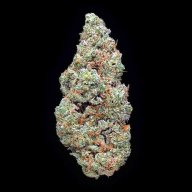 Usage & Effects
Lemon Haze
Time of use
AFTERNOON
Lemon Haze
Typical Effects
FOCUSED
RELAXED
SEDATED
Lemon Haze
Common Usage
NAUSEA
ADHD SYMPTOMS
Lemon Haze is a 70% Sativa dominant cannabis strain. The sweet, succulent Sativa packs a punch with impressive levels of THC, averaging between 20 to 25% or more. It is said to be a cross of Lemon Skunk and Silver Haze. The buds are bright green in color with orange and red hairs dancing behind a thick resinous wall of sticky, chunky trichomes. The flavor profile has hints of lemon and pine followed by a pleasing floral skunky finish. A lot of consumers that reported the strain of cannabis helping them control the symptoms of ADHD, nausea, loss of appetite, depression, chronic pain, arthritis, and much more. The buzz is said to be a very relaxing and focused one that eventually will leave you feeling very sedated.
FAQ
How much THC is in Lemon Haze strain?
Answer: This strain contains about 25% THC on average.