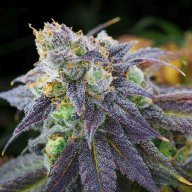 Usage & Effects
Maui
Time of use
AFTERNOON
Maui
Typical Effects
FOCUSED
RELAXED
CREATIVE
Maui
Common Usage
DEPRESSED
ANXIETY
PAIN
Maui is a 100% sativa dominant cannabis strain. This succulently sweet sativa has more than enough THC to get the job done averaging level somewhere between 22 to 28% or higher. The buds are a beautiful spring green color with rustic red-orange and brown hairs hiding behind a frosty blanket of sticky, resinous trichomes. The flavor profile is earthy and sweet, with hints of pineapple and tropical fruits followed up by a pleasing floral skunky finish. Many people have reported this strain of cannabis helping them control the symptoms of stress, depression, arthritis, chronic pain, PTSD, nausea, loss of appetite, and much more. The buzz is referred to as being a very focused and relaxing feeling one. It is also said to help spark creativity.
FAQ
How much THC is in Maui strain?
Answer: This strain contains about 26% THC on average.