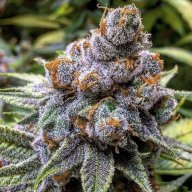 Pinkman Goo
Indica content
Usage & Effects
Pinkman Goo
Time of use
EVENING
Pinkman Goo
Typical Effects
FOCUSED
RELAXED
HAPPY
Pinkman Goo
Common Usage
DEPRESSED
ANXIETY
INSOMNIA
Pinkman Goo is a mysterious cannabis strain with an encrypted background of unknown genetics. Not much is known about THC levels. Those who have seen this strain or had the experience and pleasure of trying it have reported the buds to be neon green with blasts of lavender and pink. They're said to have tiny orange hairs with an extremely exuberantly thick wall of trichomes covering every nook and cranny of these beautiful little buds. Not many people have been able to express the flavor profile, but it is rumored to be floral and sweet with earthy, musky tones. It is said to help with symptoms such as stress, anxiety, depression, as well as gastrointestinal issues and other ailments. The buzz is reported to be relaxing, happy, and focused feeling.
FAQ
How much THC is in Pinkman Goo strain?
Answer: This strain contains about 0% THC on average.