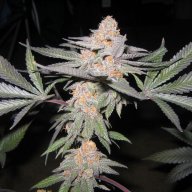 Purple Urkle
Indica content
Usage & Effects
Purple Urkle
Time of use
EVENING
Purple Urkle
Typical Effects
RELAXED
SLEEPY
COTTON MOUTH
Purple Urkle
Common Usage
DEPRESSED
ANXIETY
INSOMNIA
Purple Urkle is an infamous 80% Indica dominant cannabis strain loved by consumers and patients worldwide. While it is one of the most famous Indica strains on the market today, its origins are still a mystery. What we do know about the strain is that it has been around since the 1980s and was first grown in the Emerald Triangle in Northern California. Expert growers have often contemplated and many agree that it is likely the offspring of or a phenotype of either Granddaddy Purple or Mendocino Purps, which are two of the most legendary purple strains of cannabis available today. THC levels with Purple Urkle range between 15 to 25% on average though there have been some tests as high as 30%. This delectable purple strain of cannabis offers a flavor profile that consists of sweet undertones of grapes and fruits followed by a stinky floral finish. The buzz from the strain is often described as being euphoric and sedating and comes commonly with the side effect of cottonmouth.
FAQ
How much THC is in Purple Urkle strain?
Answer: This strain contains about 26% THC on average.
Where can I buy Purple Urkle weed strain?