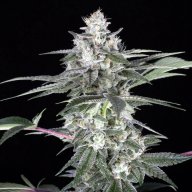 Usage & Effects
Romulan
Time of use
EVENING
Romulan
Typical Effects
RELAXED
SLEEPY
HEADACHE
Romulan
Common Usage
DEPRESSED
A LOSS OF APPETITE
INSOMNIA
Romulan is a 75% Indica dominant cannabis strain. You can expect an average THC level of 18 to 24%. This strain got its name back in the day from the legendary TV show Star Trek where Romulans were one of the alien species. They had a particularly wrinkly forehead. This strain of cannabis is said to make your forehead wrinkle up, causing consumers to resemble a Romulan when smoking it. The buds are bright green in color with red and orange hairs and lots of trichomes. The flavor profile is earthy and sweet with hints of pine and fruit wrapped up with a pleasing floral finish. Many people have reported this variety of cannabis helping them control the symptoms of depression, anxiety, stress, and insomnia, nausea, loss of appetite, and much more. The buzz is said to be very relaxing and sleepy feeling.
FAQ
How much THC is in Romulan strain?
Answer: This strain contains about 19% THC on average.