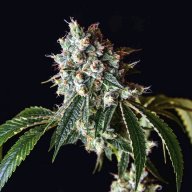 Skywalker OG
Indica content
Usage & Effects
Skywalker OG
Time of use
EVENING
Skywalker OG
Typical Effects
RELAXED
SLEEPY
SEDATED
Skywalker OG
Common Usage
DEPRESSED
A LOSS OF APPETITE
ANXIETY
Skywalker OG Is an 85% indicant dominant cannabis strain. This particular variety of cannabis has exceptionally high levels of THC, averaging about 26% or more. Skywalker OG was created crossing the two strains OG Kush and Skywalker together. The buds are forest green to lime green in color with electrified red and orange hairs. These beautiful buds are plastered in an abundance of sticky, resinous trichomes. The flavor profile is earthy pungent and sweet with hints of spice and a skunky floral finish. Many different people have reported this variety of cannabis, helping them control the symptoms of depression, stress, anxiety, chronic pain, arthritis, PTSD, ADHD, insomnia, migraine headaches, nausea, a loss of appetite, and more. The buzz is described as being very relaxing before leaving you sleepy and sedated feeling.
FAQ
How much THC is in Skywalker OG strain?
Answer: This strain contains about 26% THC on average.