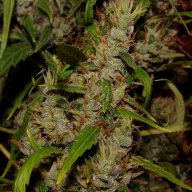 Super Silver Haze
THC Content
Super Silver Haze
CBD Content
Super Silver Haze
Sativa content
Usage & Effects
Super Silver Haze
Time of use
MORNING
Super Silver Haze
Typical Effects
PARANOIA
COTTON MOUTH
CREATIVE
Super Silver Haze
Common Usage
DEPRESSED
A LOSS OF APPETITE
ANXIETY
Super Silver Haze is an 80% sativa dominant cannabis strain with average THC levels of around 23%. It is said to be a cross between Skunk #1, Haze, and Northern Lights #5. The buds are bright green in color, with fiery orange and red hairs dancing behind a sticky resin-filled wall of chunky crushed diamond-like trichomes. The flavor profile is earthy, pungent, and sweet, with hints of citrus and a skunky finish. Many people report this variety of cannabis helping them control the symptoms of stress, depression, anxiety, migraine headaches, PTSD, nausea, chronic pain, arthritis, and much more. The buzz is described as a very creative feeling, one that often causes a major case of cotton face.
FAQ
How much THC is in Super Silver Haze strain?
Answer: This strain contains about 23% THC on average.
Where can I buy Super Silver Haze weed strain?