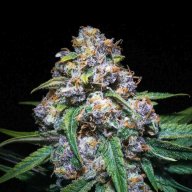 Usage & Effects
THC Bomb
Time of use
AFTERNOON
THC Bomb
Typical Effects
FOCUSED
RELAXED
CREATIVE
THC Bomb
Common Usage
DEPRESSED
ANXIETY
PAIN
THC Bomb is a 50/50 hybrid cannabis strain. You can expect an average THC level of around 26%. This beautifully balanced hybrid offers equal amounts of indica and sativa. The genetic lineage to THC bomb is rather secretive. The strain produces beautiful forest green-colored buds wrapped in fiery vivid orange hairs and blanketed with an abundance of sticky, resinous trichomes. The flavor profile is fruity and sweet with an earthy finish. Many people have reported this strain of cannabis helping them control the symptoms of stress, depression, anxiety, chronic pain, migraine headaches, and much more. The buzz is reported to be a very relaxing and focused feeling one that sparks creativity.
FAQ
How much THC is in THC Bomb strain?
Answer: This strain contains about 26% THC on average.