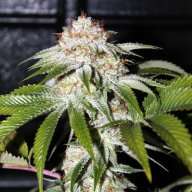 Usage & Effects
The White
Time of use
EVENING
The White
Typical Effects
RELAXED
SLEEPY
COTTON MOUTH
The White
Common Usage
DEPRESSED
ANXIETY
INSOMNIA
The White is a 60% Indica dominant cannabis strain. Some people call this variety of cannabis Triangle. It has a very high level of THC that averages around 30%. The buds are light green in color but almost appear white thanks to their exceptionally thick wall of chunky resinous trichomes. There are enough trichomes on these buds to gag anybody's grinder. The flavor profile is earthy and sweet with a sweet candy-like pine finish. Many people have reported this variety of cannabis helping them control the symptoms of insomnia, migraine headaches, nausea, loss of appetite, chronic pain, menstrual cramps, stress, depression, anxiety, PTSD, and much more. The buzz is said to be a very relaxing one that will leave you ready for sleep.
FAQ
How much THC is in The White strain?
Answer: This strain contains about 30% THC on average.