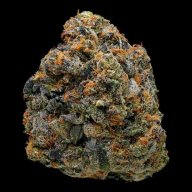 Thin Mint Cookies
THC Content
Thin Mint Cookies
CBD Content
Thin Mint Cookies
Hybrid content
Usage & Effects
Thin Mint Cookies
Time of use
AFTERNOON
Thin Mint Cookies
Typical Effects
RELAXED
DRY EYES
COTTON MOUTH
Thin Mint Cookies
Common Usage
DEPRESSED
A LOSS OF APPETITE
ANXIETY
Thin Mint Cookies is a 50/50 hybrid cannabis strain. This beautifully balanced hybrid offers equal amounts of indica and sativa. Thin Mint Cookies are a phenotype of Girl Scout Cookies. The buds are bright green in color, with electrified orange and red hairs plastered behind an abundantly sticky thick wall of resinous trichomes. When you break these buds open, they have gorgeous flashes of purple throughout them. The flavor profile is sweet, earthy, spicy, and that all wraps up with a pleasing floral skunky finish. Many people report this variety of cannabis helping them control the symptoms of nausea, loss of appetite, chronic pain, menstrual cramps, migraine headaches, stress, depression, anxiety, PTSD, and much more. The buzz is said to be a very relaxing one that commonly comes with the side effects of dry eyes and cottonmouth.
FAQ
How much THC is in Thin Mint Cookies strain?
Answer: This strain contains about 24% THC on average.