This is the continuation of the below diary: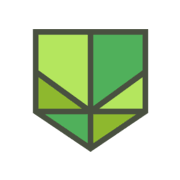 Second grow, first indoor. And I have almost no expectations for this grow except to learn. But I'm certainly aiming for something to harvest. Both are in week 2 of being a seedling so after this week they will be officially vegetative. So I guess you could say these are at week zero and will...
www.thcfarmer.com
as well as my indoor and outdoor grows going forward.
Currently, there are three cannabis plants in my (faery) garden (ht
@dire wolf
). Left to right, sensible seeds gelato autoflower, karma genetics white og fem, and Barney's farm purple punch fem. All are in soil (coast of maine stonington blend) and perlite. All have different feeds, but all are hand-watered. A couple of weeks ago I torched my poor garden with too much magnesium and calcium and nutrient lockout. Everyone survived (one plant was harvested), but between being uppotted and locked out, the purple punch has been at a standstill with growth and the nitrogen deficiency seems to have hit pretty hard. Yesterday she got a regular feed again finally (
Earth Juice
Seablast nutrients for this and future grows) of Grow, and today she's starting to look better. The white OG plant in flower has some lighter green leaf edges that I believe to be a result of the nutrient lockout a couple of weeks ago but she has now been fed again and I'll keep an eye on it. The gelato has had a few leaves removed and some lst done. She's a bit sad sacky/pissy at the moment.
Two beans are currently in warm wet darkness to be added to the mix. Fastbuds blue dream autoflower and nirvana blue cheese autoflower, once sprouted, will be put into jiffy pellets. Their next (and final) destination and medium will be 1 gallon fabric containers of coco coir. My tent is a Cool Grows 36" x 20" x 63",
@SpiderFarmerLED
SF2000
at 100%
and 24" from canopy,
AC Infinity Cloudline T4
, a couple of small clip-on fans, and a small humidifier outside of the tent that is on only during lights on. The flowering plant spends 12 hrs of darkness every day in a closet with a small oscillating fan while the others remain on an 18/6 schedule. Typically, lights on temps are 80-84 F and 68-71% RH; lights off temps are 69-72 F and 53-58% RH. Stay tuned...
White og
Purple punch
Gelato
White OG