Greetings from the south land!!! I have recently taken up the most awesome "hobby" in the world... Growing cannabis. I've fallen in love with it for many reasons (besides "free" smoke)... But, the main reason is I get to see the fruits of my hard work every day. It definitely helps me appreciate the tlc that some one has put into the sweet (and, sometimes not so sweet...) chiba I've been smokin' for years! The wife loves it because it keeps me out of her hair... The neighbors love it because I spend much less time in my back yard acting a fool, and shooting guns. So, it's a win for EVERYONE!!! I came to this site to learn from the experience of others, so that i can become the best grower possible. Please, feel free to drop by and comment. I could use all the help I can get. =]
Now, for the goods. I started growing 5 Cream Caramel Autos from our friends at Sweet Seeds. Every seed germinated after 1 day in a paper towel. However, one seed didn't fall off, and ended up strangling one of my lovelies. I tried to remove it, and the stem snapped in half. So, I had to replace it with a Northern Lights X Big Bud Auto from World of Seeds. It germed in about 14 hours. All were planted in 1.5 gallon pots, filled with a 70/30 mix of Fox Farms Ocean Forest and perlite, placed under 300 Watts worth of fluorescent lights and watered once in the first 4 days. I also placed all pots on small milk crates for better airflow and drainage. The lights are on 24/7 right now, but I was wondering what would be best for flower... Thoughts? Between week 2-3, i'll move them to 600 Watts of MH, and then HPS for the flower. During flower, I'll be administering Fox Farms nutrients at 1/4 potency. Also, I need a proper vent system, but I can't cut holes in the closet, cuz the old lady might have my head on a stake. So, I'm worried about heat once the 600W gets installed. Suppose I'll figure out something...
1 Week: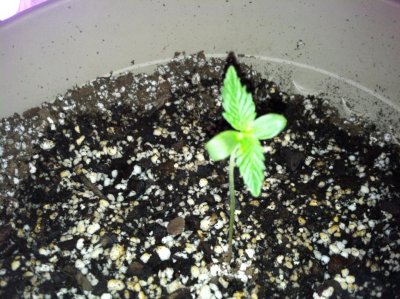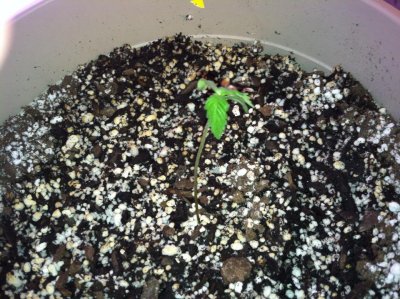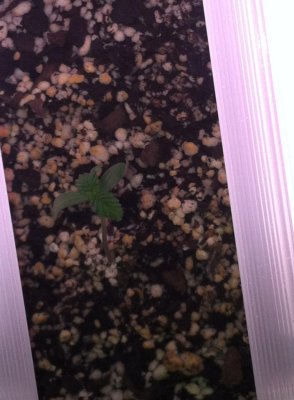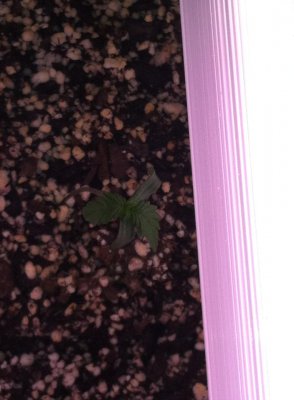 13 Days: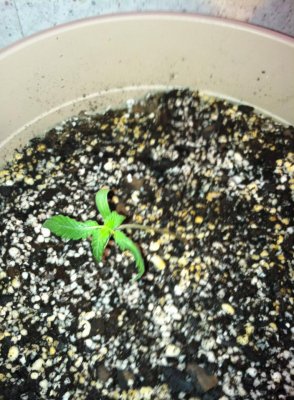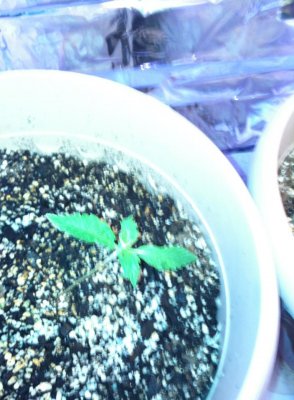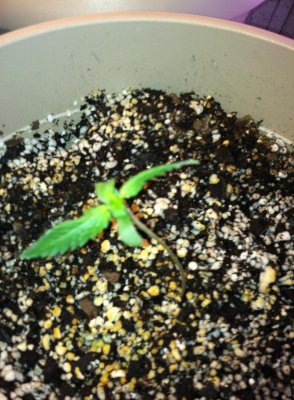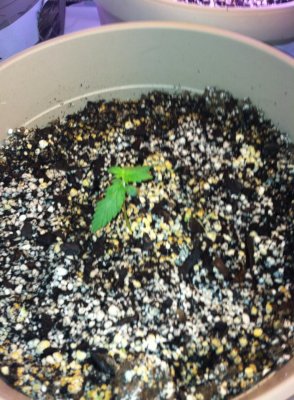 I'm a bit concerned about some leaves drooping. But, other than that, I feel everything is going good. That's about it, for now. Will keep you updated as I go. Thanks for stopping by, y'all!!!