Previous thread: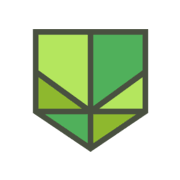 Plants are currently about 30 days old in 1 gallon pots of
Promix
HP mixed 1:1 with chunky perlite, and were potted up from 4 inch pots at 15 days old. They're getting 18/6 under an
HLG
350R at 24" dimmed to half strength in a 2x4 closet, average temps are 75-78 with lights on, and 64-68 with...
www.thcfarmer.com
1 gallon pots with
Promix
HP and Perlite mixed 1:1
2x4x8 closet with an
HLG
350R dimmed to half strength, sitting at 27" from canopy.
Dynagro
FP +
Protekt
3x
Hashberry
, 4x
Maple Leaf Indica
, 1x California Dream
5 weeks into veg currently, plants are currently recovering from underfeeding/underwatering issues. All plants have been topped twice, and the tallest plants have been supercropped to keep height under control. I plan on continuing veg until these plants are looking better and they're around 24 inches. They'll also likely be repotted into 3 gallon pots in the next week
or
two.
All of the plants are looking OK now, with the exception of the California Dream(second picture). It's showing leaf twist, clawing, and tip burn. I defoliated the bottom third of the plant to remove the more severely damaged leaves. I'm guessing this is a nute lockout
or
excess salt issue, because I've just let the runoff sit in the trays and soak back up after feeding for the past 3 weeks.
I was feeding half strength FP at every watering prior, but after I noticed the leaf clawing on this plant, I flushed all my plants with plain water. That was two days ago, and I'll be giving them plain water until I see some yellowing show up, because I don't want to burn them again. Runoff will obviously be drained after watering from this point forward, didn't realize
Promix
gets treated like hydro and should drain to waste.
Any feedback on what's going on with the tip burn and clawing, was it from not draining the runoff? Could it be heat stress as well? I've seen tip burn on the other plants, but only the California Dream has that leaf twisting and clawing.