Hi all – first time poster here. I appreciate everyone's commitment to making this the "go to" board for information sharing on our beloved practice. I've learned a ton through countless hours spent scouring this and other message boards to come up with a room design that will hopefully provide optimum conditions for growing….but I will leave it up to you, the experts, to be the judge. It's a bit of a read so thanks in advance for taking the time.
Background:
I have a few grows under my belt, mostly outdoor but a few months ago bought a 4x4 tent and LED light and since then things have spiraled out of control. :) I am growing in a 13x30x9 foot workshop (metal building, un-insulated) on my property. The summer heat necessitated insulating the tent with ISO poly rigid insulation on all sides (essentially building a giant "cooler" for the tent and contents). Then I picked up an old 10K window AC off CL, built plenums and insulated flex ductwork into the tent/room on a closed loop. The exhaust of the AC also has a plenum and a 440cfm inline fan to push the air out of the workshop. At that point I figured I would add CO2, 30 pint dehumidifier and a CHHC-4 controller to maintain the environment. So it's a self-contained, sealed environment at this point. Overall this setup works pretty well! The main problem it's pretty energy intensive with the AC kicking on an off all the time. It's oversized for such a small room. I figure a larger room with a mini split will be more efficient for, at least concerning AC usage. Additionally, with a 4x4 room, I don't have any workspace (besides the workshop itself)
or
a decent environment to clone/veg/mother in. I could bring this into the house, but I have a preference to keep it all out in the workshop. So… I'd like a bigger, dedicated space.
Climate:
Outdoor climate where I live is often called the Mediterranean of the US. (aka: San Diego). Temperatures rarely exceed 90 degrees (but can reach over 100 a few days of the year) and generally stay in the 70-80s during the summer days and can get down into the 30s at night during the winter. Humidity is usually around 50%.
Design:
I grow for personal use with the occasional supply to a friend
or
two. As such I am looking to limit my ongoing operating costs (within reason) by doing this build with energy efficiency in mind. I would like to spend the money up front in hopes of achieving this.
I want to create a 10x10x8 sealed room split 5x10 for flower and 5x10 for veg. The overall room will be sealed with each room being more
or
less sealed from each other. Take a look at my renderings from Sketchup for more design details. Please forgive that the scale is off a bit.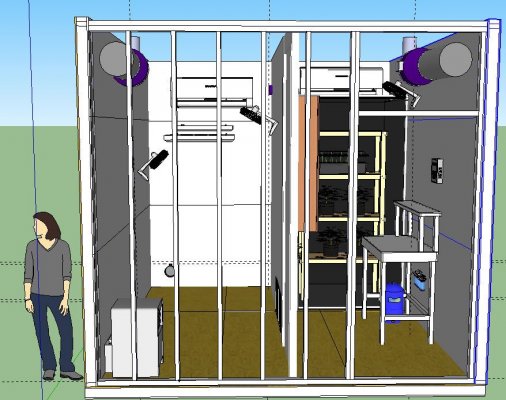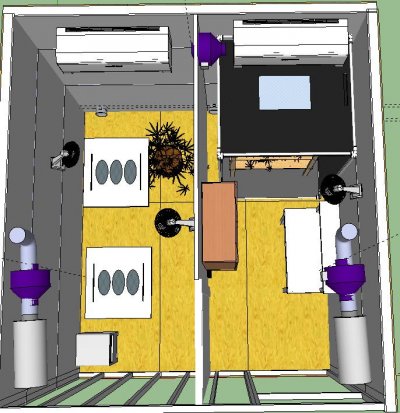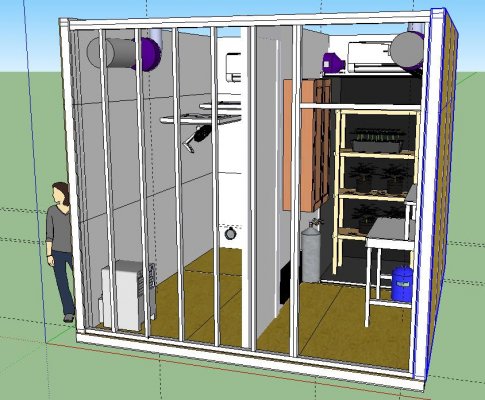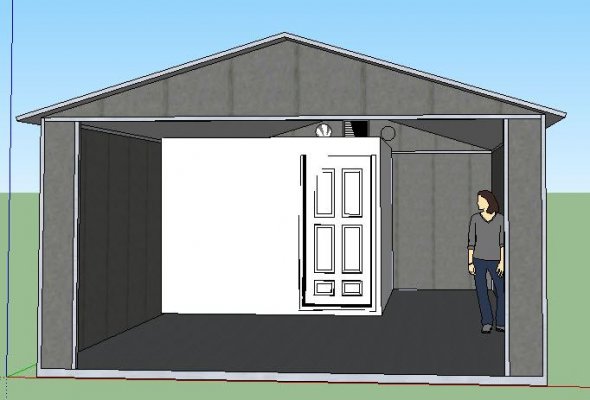 Heat Management:
I would like the ability to vent both rooms into each other and independently (I know, it's "not sealed if it has vents"), but hear me out! :) The plan is to install 6" automatic dampers on the intake of the veg and flower room with a Horti-control shroom filter to prevent the heebie-jeebies from getting in. For exhaust, each room will have a 6" carbon filter connected to a 440cfm inline fan connected via insulated ducting to the outside of the workshop. The exhaust fan in the veg room will run with a temp controlled switch. The same will occur for the flower room BUT only during the "night" period (actually day time). If the "night" period gets too warm for the fans I plan to have the setpoint of the AC just above the thermostat controlling the fans and auto dampers. For example if temps are between 75-80, exhaust and dampers operate. Once temps reach 81, the fans shut down and the dampers close, leaving the AC to do the work. I still need to figure out how to have only the ventilation
or
AC running at any one time (maybe the ventilation temp sensors would be located outside of workshop and measure ambient outdoor temp,
or
program a
Raspberry PI
?) During the "day" in flower, AC will manage heat and I'll pump CO2 in. The exhaust fans will turn off, dampers will shut. I should be able to coordinate this with the built in AC timer and timers on the exhaust fans/dampers.
I would ideally like to use one AC unit for both rooms. I am planning on getting a 12k btu Mitsubishi Mr Slim 21 Seer,
or
something similar, to be located in the flower room. However if you think I should go for a dual zone unit to include in the veg room, I would like to hear about it. I was thinking about putting an exhaust fan between the flower and veg room with two 8" darkroom light baffles to pull cool(er) air from the flower room into the veg room, on hot days. This fan would operate via a temp controlled switch as well.
Construction:
2x4 framed, OSB exterior
R13 fiberglass
or
denim insulation
Drywall interior (
or
OSB) coated in elastomeric rubber roofing sealant for water proof reflectiveness
ISO R-10 Insulated floor on top of concrete slab
Dedicated electrical panel in workshop that has tons of capacity, including 220v already run. I will connect the mini-split to the 220v and have two dedicated 20amp circuits for lights, fans and dehumidifier.
Not sure about doors yet. I was thinking about an outswing 30" door for entrance into veg and a pocket door for flower room entrance to conserve space (but haven't figured out how to seal that up yet so may end up with a standard door for it also).
Veg:
Clones, Veg and a couple of mothers-
T5 lighting
All Soil
4x4 tent with a shelving system (left unzipped)
Drying cabinet
Work table
RO system w 11 gallon tank
Control panel and CO2 tank
Intake: 6" auto damper w/ Horti-control shroom filter
Exhaust: 6" 440cfm fan with carbon filter
(2) 8" dark room baffles between flower and veg wall
6" intake fan from flower
Flower:
6-8 plants at one time –all soil (organic)
2 Mars 900 LED lights (I already own one)
30 pint dehumidifier, connected to hose (mostly for "night" dehum)
Oscillating fans
Mr Slim 12K btu mini split
CO2 injection
Intake: 6" auto damper w/ Horti-control shroom filter
Exhaust: 6" 440cfm fan with carbon filter
Thanks for hanging in there thus far. I promise I'm about to wrap it up! :)
My questions:
1. Will my ventilation/AC scheme produce the results I'm looking for? I would like to take advantage of the "nice" weather here and came up with this idea. However, if you think it's too complicated
or
I won't see much benefit from the extra effort and cost I'd love to hear it. I could always just seal the whole thing up and deal with spending more for electricity. May push me to go solar on the house.
2. In line with the previous question, should I plan on getting a dual zone mini split? If so should both sides be 12K given the room size (maybe too much, two 9k's would be better
or
a mix?)
3. I'm pretty happy with the Mars II 900 watt LED light, but could be persuaded to move it to the veg room if you think a 600 watt HPS, aircooled, etc is better. May have to scale my electrical up. The LED is pretty energy efficient (relatively speaking), so like that idea.
4. If you have other ideas for more/better insulation, let me know. Does cheap and good exist here? The 1.5" R-10 ISO boards are $25 each, kinda spendy to do two layers throughout the box.
5. The budget for the project is in the $5K range with most of it being spent on the AC unit and install. I will install the compressor and condenser units and run the lines. Will have an HVAC tech hook it up and vacuum the system. I think this should cover it but let me know if I should plan for more (
or
less).
6. Should I plan for more electrical circuits
or
a subpanel?
Thanks for reading and any advice in advance!