Implying that you must have to be stupid or gullible to use UC nutes or products is what I have a problem with
Okay. I will agree with you here. That sentiment, in its totality, is quite over the top.
The mainline RDWC setup (like the system itself), as well as the bulk of the nute line, is more or less on par/price point with anything from Bontanicare, GH, etc. While the system itself is pricey, here the plug/play and customer service more than justify the premium.
I would reword my thought to specify UCRoots the specific product- not
Current Culture
as a company. I would also direct similar criticism to a number of other products from other companies - (
Botanicare
's
ClearEx
comes to mind, as well as SNS217, among others) As I've said several times in this thread, I'm all for
reasonable
profiteering.
I mean, by my own figures I make something like 1750% on each oz I sell.
That acknowledged and agreed upon, lets dive into the rest of your comments:
TK said:

the exact same can be said for GH 3 part, GH is the hands down king of profiteering in the hobby size grow product arena yet those are the guys you champion...
I
champion
GH 3-part? Hardly.
sedate said:

They are trolling for cash with a shitty mineral based nute line that about stacks up to GH's 3-part.
By implication I am actually calling 3-part 'shitty,' but anyway, like I said, my criticism should have been directed specifically at UCRoots, not the entire nute line.
That was sloppy and I should be far more precise when I post. Nevermind that I don't think that about UC's entire line - just that particular product.
TK said:

and before those cats put their product in the game it wasn't commercially available out of the box..period..now in an effort to be an one stop shop for hardware and nutes somehow that diminishes their integrity or something and that people who endorse their product are somehow stupid and or gullible..that is a joke to me and most others that read it....
Whoa!
I did not say any of this.
You extrapolated all of this from "on the backs of stupid and gullible growers."
Across the board, and I get how this was obscured by snotty tone of my post, I was actually talking about the economic concept of informational asymmetry -
http://en.wikipedia.org/wiki/Information_asymmetry
Not so much implying that anyone who uses CC products is 'stupid and gullible' - again - a sloppy bit of posting on my part.
I've been on forums long enough I should have realized how incomplete and insulting that statement was and how it would come across. So here, I apologize for the confusion.
Okay. Let me be clear:
I think Current Culture is a premier company in this industry.
I think CC offers, with UCRoots being the one glaring exception,
a good value for your growing dollar
. I think the RDWC systems are
particularly
impressive.
I would love to own one, except my hard-on for building everything myself would get in the way.
All I can say is I have actually used the nute line in a RDWC system and I had a really great run with it. No deficiencies, no toxicities. I can't say any more than that. There is always a cheaper way, but more people like the easy way for many reasons... Sometimes it's ignorance and sometimes convenience. I think most people don't mind paying the high price for some of these products because they aren't growing lettuce and the bottom line is not affected very much by the variable cost of nutrients or sterilizing agents..........If you get down to is sedate, all nutes are "overpriced"... just raw salts and water. It's cheap as fuck to make... but people are still buying it out of convenience or ignorance... or both. :)
Sure. The difference here isn't that I think all nutes are 'overpriced' - it is that this one particular product is egregiously so.
A semi-organic blend of NPK, a bit of
cal-mag
, with fulvics and a spot of bennies might be easy to make - it is - but I think
Botanicare
's PureBlendProGrow is 'better' because of the 'convenience' - and at a reasonable $40 a gallon everyone involved in the transaction is appropriately compensated for the cash/material/time-of-production/etc., outlay.
Except UCRoots isn't a blend of anything - it is scarcely even a recipe. It is only one common household chemical, added in laughably small dosages, to plain water, and resold at some 100000% markup. And you know this.
Capulator said:

The use of bleach is the cheapest aspect of my growing. Thats why I find the cost of retail products sucha s Pythoff so AN ish. Flairform charges something like $10 for a 1 quart bottle of RO water with a few cents of Chlorox added to it sold as Pythoff. Reminds me so much of

Advanced Nutrients

prices.
Agreed Cap. Agreed.
;)
TK said:

bust out a thread of your homemade ground breaking innovative grow setup and your unique base salt mixes to prove your not just another one of us stupid gullible sheep
Sure. I don't need an entire thread, but I do walk the walk homie:
25-lb salt bags from JRPeters I mix up something akin to my own Jack's Classic: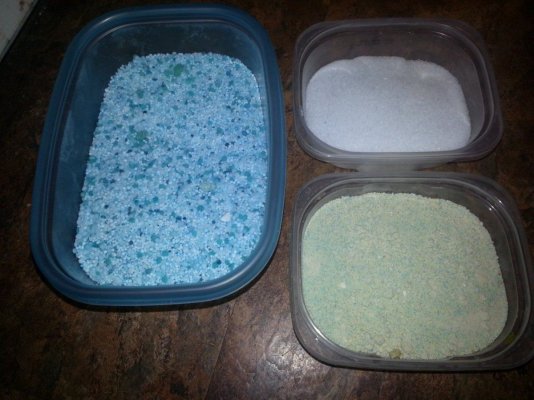 So the blue (the only thing actually mixed here) works out to 22-33-33, the white is 52-34 (monopotassium phosphate, ie, Mad Farmer's
MOAB
) and the yellowish is traces, with Advanced Floraculture silicon for pH...
Probably about the cheapest/most concentrated/effective base I've ever used in 4 years..
Works out to just over $200 for 100lbs of salts ... when the
MOAB
alone (which, to be clear, is a
good
value by hydroshop standards) would cost $100 for two pounds in the hydroshop......
TK said:

.if you don't like UC products or services, Don't use them, pretty damn simple
Okay, this is a cutesy, common type of refrain. Sort of shuts down discussion without any real analysis.
If I don't like something however, I find discussing it is the best way to change it. Maybe my neo-liberal way of thinking.
And this is a
discussion forum
. The point of forum life is figure out neat little grow-hacks like - you know - 50cents worth of household chemicals could save the clever grower hundreds of hard grown dollars.
I seriously didn't start this thread to be a hater.
I was trying to save my fellow grower mad cash on a simple, overpriced product..

..that is all..
Last edited: