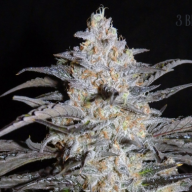 Usage & Effects
3 Bears OG
Time of use
EVENING
3 Bears OG
Typical Effects
RELAXED
SLEEPY
HUNGRY
3 Bears OG
Common Usage
A LOSS OF APPETITE
INSOMNIA
MIGRAINES
3 Bears OG is an Indica dominant hybrid that leans heavily towards the Indica side of the spectrum. This potent, powerful strain is known to produce significant cases of the munchies and cottonmouth. It's also known to leave consumers feeling hungry and sleepy. That's probably because 3 Bears OG packs an impressive 24% THC concentration or better on average. The flavor profile is everything you would expect from anything with the name OG on it. If you're a high-stress individual who has a hard time relaxing, this is a cannabis strain that should be in your daily routine. The smooth flavors reminiscent of OG Kush will invade the body leading to feelings of euphoria and relaxation before laying you down for a nap or a good night's sleep.
FAQ
How much THC is in 3 Bears OG strain?
Answer: This strain contains about 0% THC on average.