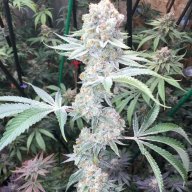 9 Pound Hammer
THC Content
9 Pound Hammer
CBD Content
9 Pound Hammer
Indica content
Usage & Effects
9 Pound Hammer
Time of use
EVENING
9 Pound Hammer
Typical Effects
FOCUSED
RELAXED
CREATIVE
9 Pound Hammer
Common Usage
DEPRESSED
ANXIETY
INSOMNIA
9 Pound Hammer is an 80% Indica dominant variety of cannabis that will rock your world when it is flowered to perfection. You want to make sure to get this from a trusted grower so that you don't end up with a 5 lb Hammer instead. THC comes in between 14 and 23% with this strain. You can expect frosty buds that are blanketed with trichomes and a robust tropical aroma from these beautiful buds. Many consumers describe the flavor as having hints of grape and citrus. 9 Pound Hammer could be the strain you're looking for if you battle insomnia or loss of appetite. It's also known to be great at melting away anxiety, depression, stress, and pain. When you're ready for a very relaxed yet focused and euphoric buzz be sure to try 9 Pound Hammer.
FAQ
How much THC is in 9 Pound Hammer strain?
Answer: This strain contains about 23% THC on average.