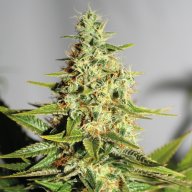 Acapulco Gold
Sativa content
Usage & Effects
Acapulco Gold
Time of use
MORNING
Acapulco Gold
Typical Effects
PARANOIA
COTTON MOUTH
CREATIVE
Acapulco Gold
Common Usage
DEPRESSED
A LOSS OF APPETITE
ANXIETY
Acapulco Gold is an 80% sativa dominant variety of cannabis. This old school classic has been around for quite some time. The buds vary from a deep golden tone all the way to green or brown. You'll know you have the real deal when you smell it though. The aroma is exactly what you would expect with something having a tropical name such as Acapulco Gold. The next sure-fire way to tell your Acapulco Gold is the true strain is by the effects. THC comes in at a strong 23%, and just a few puffs of this stuff should be enough to get anyone lit. Consumers say this is the perfect strain to increase your appetite, fight anxiety, depression, nausea, and help control chronic pain. The buzz is euphoric and energetic. You might find yourself feeling a little extra creative after consuming some Acapulco Gold. But one thing is for sure; this strain has gained its fame and legendary status.
FAQ
How much THC is in Acapulco Gold strain?
Answer: This strain contains about 23% THC on average.
Where can I buy Acapulco Gold weed strain?