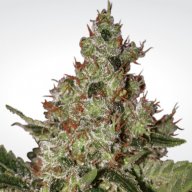 Usage & Effects
Acid
Time of use
EVENING
Acid
Typical Effects
FOCUSED
RELAXED
DRY EYES
Acid
Common Usage
DEPRESSED
ANXIETY
MIGRAINES
Acid is a 60% Indica dominant variety of cannabis. Many consumers find this to be a great strain to consume throughout their day. When you're looking for a little herbal relaxation, Acid is there to show you the way. THC averages around 16 to 23%, and this sweet Indica puts off beautiful dark green buds that look like they were dipped in glitter. The sparkle comes from the blanket of trichomes covering the sweet nugs. The buzz is very relaxing, with a euphoric and focused feeling. Cottonmouth and dry eyes are common with this variety of cannabis, so make sure you have hydration and snacks handy. Consumers report finding relief from the symptoms of ADHD, pain, migraines, depression, stress, anxiety, and more from the Acid cannabis strain.
FAQ
How much THC is in Acid strain?
Answer: This strain contains about 23% THC on average.