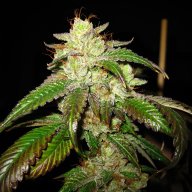 Afghan Kush
Indica content
Usage & Effects
Afghan Kush
Time of use
EVENING
Afghan Kush
Typical Effects
RELAXED
SLEEPY
COTTON MOUTH
Afghan Kush
Common Usage
DEPRESSED
ANXIETY
INSOMNIA
Afghan Kush is a 95% Indica dominant variety of extremely potent cannabis. The buds are known to have beautiful hues of purple throughout them. The smell is fantastic, having a very earthy aroma with hints of hash and pine. The flavor profile matches the scent perfectly. Afghan Kush is a favorite with consumers who love the Afghani and Hindu Kush variety of cannabis. It's reported that this strain helps fight the symptoms of stress, depression, anxiety, pain, nausea, and insomnia. The buzz is a euphoric and heavy one, according to most. This is a great strain to end the day with. If you're looking for a little herbal relaxation, then be sure to try Hindu Kush.
FAQ
How much THC is in Afghan Kush strain?
Answer: This strain contains about 17% THC on average.