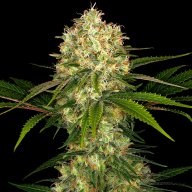 Usage & Effects
Afghani
Time of use
EVENING
Afghani
Typical Effects
RELAXED
SLEEPY
DRY EYES
Afghani
Common Usage
DEPRESSED
ANXIETY
INSOMNIA
Afghani is a 100% Indica dominant cannabis strain that really packs a punch. Afghani is a landrace strain that comes from Afghanistan. It's rumored the genetics made their way here as part of the hippie trail. THC comes in super-strong, averaging 15 to 20%. The buds are known to have a whitish-green hue, and tones of purple spread throughout them. The aroma is strong with a skunky diesel scent. The flavor is pungent and tastes a lot like hash, according to many. Consumers report the strain helping them with anxiety and PTSD, as well as stress and depression. Because of its healthy THC percentage, this strain is also great at controlling the symptoms of chronic pain, loss of appetite, and insomnia. The buzz is described as a very euphoric and relaxing one, ultimately leading to sleep. If you're looking for the perfect way to end any day, perhaps you should try a little Afghani.
FAQ
How much THC is in Afghani strain?
Answer: This strain contains about 21% THC on average.