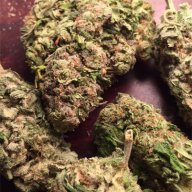 Usage & Effects
Alaska
Time of use
AFTERNOON
Alaska
Typical Effects
FOCUSED
RELAXED
COTTON MOUTH
Alaska
Common Usage
DEPRESSED
ANXIETY
PAIN
Alaska is a 70% sativa dominant variety of cannabis that is a breath of fresh air. THC comes in at an impressive 30% on average in this extremely potent pungent strain of cannabis. The buds from this herb are extremely long resembling cypress trees. They are bright green with orange pistols twisted throughout them blanketed in a fresh powdery snow-white coating of trichomes. The flavor of the smoke is everything you would expect Alaska to be having spicy tones with hints of cedar and pine. Consumers report this being an excellent strain to fight the symptoms of nausea, ADHD, chronic pain, stress, depression, and anxiety. The buzz is a very relaxed and euphoric one that most consumers say will definitely give you a case of cotton face.
FAQ
How much THC is in Alaska strain?
Answer: This strain contains about 31% THC on average.