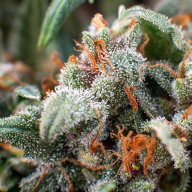 Alaskan Thunderfuck
THC Content
Alaskan Thunderfuck
CBD Content
Alaskan Thunderfuck
Sativa content
Usage & Effects
Alaskan Thunderfuck
Time of use
MORNING
Alaskan Thunderfuck
Typical Effects
FOCUSED
RELAXED
CREATIVE
Alaskan Thunderfuck
Common Usage
DEPRESSED
A LOSS OF APPETITE
ANXIETY
Alaskan Thunderfuck is a 60% sativa dominant variety of cannabis. Many people like to get their day started with spunky sativa such as Alaskan Thunderfuck. THC percentages average a heavy 18 to 24% and sometimes even higher with this strain. The strong sativa characteristics make this a great strain for offering creativity and focus. The 40% Indica heritage is just enough to leave you relaxed but keep you from getting the all-too-common couch lock. This particular variety of cannabis is said to be great at helping battle the symptoms of anxiety, stress, depression, as well as a loss of appetite. Many consumers report the munchies, giggles, dry eyes, and cottonmouth as common side effects from Alaskan Thunderfuck.
FAQ
How much THC is in Alaskan Thunderfuck strain?
Answer: This strain contains about 27% THC on average.