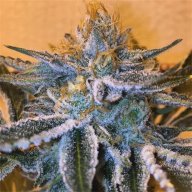 Usage & Effects
Alf
Time of use
EVENING
Alf
Typical Effects
RELAXED
HUNGRY
CREATIVE
Alf
Common Usage
DEPRESSED
ARTHRITIS
INSOMNIA
Alf is not an alien life form; instead, it is a 70% Indica dominant variety of cannabis and a great way to end any day. Two unique cannabis strains, Black Raven and Animal Pie, were combined together to create Alf. The buzz from Alf is out of this world. THC comes in on average at 15% and sometimes even a little higher. The buds produce a sweet sugary flavor with a slight hint of cherry and skunk. The aroma smells earthy and coffee-like. This strong Indica strain of cannabis is known to cause major cases of cotton face and the munchies. It's a good idea to have plenty to eat and drink on hand when Alf is around. The relaxing and euphoric buzz is known to spark creativity and conversation. Consumers report this strain being great at helping fight insomnia, depression, arthritis, and stress.
FAQ
How much THC is in Alf strain?
Answer: This strain contains about 15% THC on average.